MOTIVATION AND OBJECTIVES

Regeneration service suppliers are facing a variety of possibilities to configure their regeneration supply chains. Even though the configuration is to a certain extent defined by the capital good itself as well as by the essential technologies, there are various opportunities for improvement from a manufacturing logistics point of view, such as provision of capacity, scheduling and lot size determination methods and strategies of control and processing. Depending on the selected configuration of supply chains, the suppliers are able to provide a specific logistics performance. Customers apprehend those logistics performances via due date reliability and the offered lead-time. Although many approaches to describe cause-effect relationships concerning industrial supply chains do exist, there is no approach, which allows a continuous model-based description and, thus, an individual configuration of regeneration supply chains. To assure such a continuous description as well as a quantitative assessment of arbitrary and common regeneration supply chain configurations regarding logistics performance and logistics costs, a mathematical description of cause-effect relationships between adjustable data, control parameters and objectives needs to be facilitated. The developed assessment model allows additional insight into the quantitative effects of different supply chain configurations on feasible logistic goals as well as monetary objectives.
RESULTS
During the first funding period, optimisation approaches for capacity planning on a short-, mid- and long-term timescale based on Bayesian Networks were developed. Those enable precise prognoses concerning forthcoming regeneration orders and the resulting workload (based on e.g. usage data of capital goods). On that basis, first mathematical models to describe cause-effect relationships of design options, which are grounded on capacity and load balancing, and the resulting missing parts situation in reassembly, were developed during the second funding period. The focus was placed on a multistage process consisting of repair, pooling stage and reassembly. As a result, an assessment model was developed, which evaluates the missing parts situation in reassembly depending on the design options (selection of parts to keep in the pool as well as their quantity).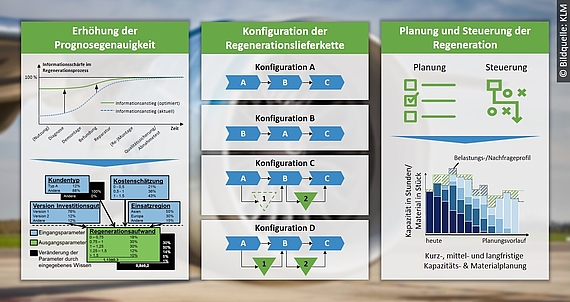 CURRENT RESEARCH AND OUTLOOK
To ensure a complete assessment of the supply chain configurations, the crucial process elements for the regeneration supply chain and their potential processing strategies as well as control procedures need to be made accessible during the third funding period. This includes e.g. disassembly procedures, additional pooling stages to improve the utilisation, alternative pooling strategies (determining the amount and the allocation of pooling components to the regeneration orders) and the diagnosis process. Subsequently, the consistent and model-based description allows the evaluation of the outcome concerning design and control changes of logistics performance and logistics costs without relying on time-consuming and application-related simulation studies. It also provides assertions about the process capability (supply chain structure and planning) and process reliability (controlling). This simplifies the derivation of goal-oriented measures for configuration, individual design and controlling of regeneration supply chains.
PUBLICATIONS
International Scientific Journal Paper, peer-reviewed
International Conference Paper, peer-reviewed
(2019):

Characterization of supply chains in the regeneration of complex capital goods.

,

Dimitrov, D., Hagedorn-Hansen, D. und Leipzig, K. von (Hg.): International Conference on Competitive Manufacturing (COMA 19), 31 January-2 February 2019, Stellenbosch, South Africa. Knowledge valorization in the age of digitalization. S. 444–449.

(2017):

Priority based planning approaches for regeneration processes

,

Procedia CIRP 2017 (59), 89-94

(2016):

Model-based analysis of reassembly processes within the regeneration of complex capital goods

,

In: Procedia CIRP 2016 (55), S. 206

(2014):

From Fuzzy Maintenance, Repair and Overhaul Data to Reliable Capacity Planning

,

New Production Technologies in Aerospace Industry Proceedings of the 4th Machining Innovations Conference, Hannover, September 2013: Springer International Publishing Switzerland 2014, S. 181–186

DOI:

10.1007/978-3-319-01964-2_24

(2010):

Capacity Planning and Coordination with Fuzzy Load Information

,

The Business Review, Cambridge 16 (1), S. 259–264
National Scientific Journal Paper, not peer-reviewed
(2018):

Durchgängige modellbasierte Bewertung von Regenerationslieferketten

,

ZWF - Zeitschrift für wirtschaftlichen Fabrikbetrieb 113 (4), S. 220–224

DOI:

10.3139/104.111893

(2017):

Bewertung von Gestaltungsoptionen in der Regeneration

,

ZWF - Zeitschrift für wirtschaftlichen Fabrikbetrieb 2017 (112) (6), 396-400

(2016):

Gestaltung von Regenerationslieferketten - Bewertung der Synchronität mithilfe des Bereitsstellungsdiagrammes

,

In: ZWF - Zeitschrift für wirtschaftlichen Fabrikbetrieb 2016 (12), 809-812

(2015):

Konfiguration von regenerationsspezifischen Gestaltungsoptionen

,

Zeitschrift für den wirtschaftlichen Fabrikbetrieb 2015 (5) (110), S. 277–280

(2013):

Mathematische Modelle zur bedarfsgerechten Kapazitätsplanung

,

ZWF 108 (07-08/2013), S. 552–555

(2012):

Verfügbarkeitsoptimierung in der Kapazitätsplanung

,

ZWF 107 (12), S. 903–907

(2012):

Entwicklung einer Schadensbibliothek für die Regeneration komplexer Investitionsgüter

,

Industrie Management 28 (2), S. 58–61

(2012):

Regeneration komplexer Investitionsgüter - Potenziale für Kapazitätsplanung und -steuerung sowie Auftragsannahme

,

Zeitschrift für wirtschaftlichen Fabrikbetrieb 2012 (10), S. 761–765

(2011):

Ein generisches Prozessmodell für die Regeneration komplexer Investitionsgüter

,

ZWF 106 (11), S. 861–865

(2010):

Kapazitätsplanung und -abstimmung bei unscharfen Belastungsinformationen

,

ZWF 105 (4), S. 323–327
Dissertationen
(2018):

Modellgestütztes Ersatzteilmanagement in der Regeneration komplexer Invstitionsgüter

,

Garbsen: TEWISS Verlag

(2014):

Kapazitätsplanung und -abstimmung für die Regeneration komplexer Investitionsgüter

,

Leibniz Universität Hannover, Garbsen: Berichte aus dem IFA

ISBN: 978-3-944586-77-9

(2012):

Grundmodell zur Kapazitäts- und Belastungsabstimmung eines Arbeitssystems in der Regeneration

,

Berichte aus dem IFA, Garbsen 2012

ISBN: 978-3-943104-60-8
SUBPROJECT LEADER
Prof. Dr.-Ing. habil. Peter Nyhuis