MOTIVATION AND OBJECTIVES

Performance calculations are necessary for the design process and the health monitoring of a complex capital good. A digital twin can be represented with these calculation methods. So far, the performance models are based on numerical reduced order models without the momentum equations and without dynamic control volumes. The pseudo bond graph approach is able to improve the performance calculations. In this theory, all equations of motion are solved with individual dynamic control volumes in order to investigate the transient load case in a higher accuracy. In the software tool ASTOR (AircraftEngine Simulation of Transient Operation Research), the complex capital goods are transformed into the pseudo bond graph notation with the information of the combined module variance to simulate the influence on the overall system performance. In figure 1 the pseudo bond graph of the V2500 – A1 is pictured. With ASTOR, a high-fidelity digital twin for transient load cases will be developed.
RESULTS
In the first step, a reference model of a new V2500-A1 jet engine was developed (see joule process fig 2.). Based on this propulsion the stationary and transient performances were simulated in different load cases. Furthermore, different deteriorated performances maps are simulated for future investigation with the real test engine of the V2500-A1.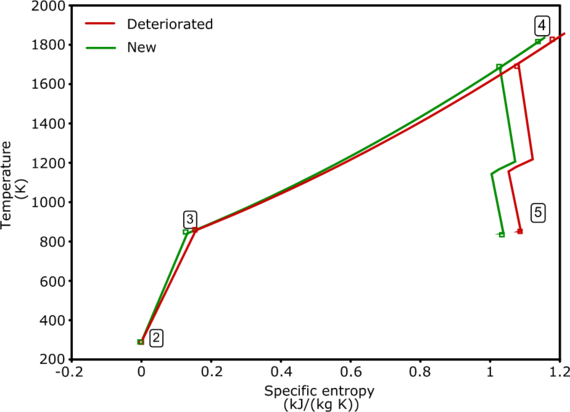 CURRENT RESEARCH AND OUTLOOK
In the next steps, ASTOR will be extended and different deteriorated cases will be investigated and validated. Furthermore, the effect of local heat flows inside of the propulsion will be implemented. Together with the part projects A3, A6 and B3, a digital twin of the own test engine will be generated to investigate the interaction of different repair technologies and possibilities with part project D5 and S.
PUBLICATIONS
International Scientific Journal Paper, peer-reviewed
(2019):

Surface roughness of real operationally used compressor blade and blisk

,

Proceedings of the Institution of Mechanical Engineers, Part G: Journal of Aerospace Engineering, 1-10

DOI:

10.1177/0954410019843438
International Conference Paper, peer-reviewed
(2019):

Numerical Study of Stage Roughness Variations in a High Pressure Compressor

,

Gas Turbine Society of Japan (Hg.): Proceedings of the International Gas Turbine Congress 2019 Tokyo.
SUBPROJECT LEADER
Prof. Dr.-Ing. Jens Friedrichs
Address
TU Braunschweig
Hermann-Blenk-Strasse 37
38108 Braunschweig
Prof. Dr.-Ing. Jens Friedrichs
Address
TU Braunschweig
Hermann-Blenk-Strasse 37
38108 Braunschweig
STAFF
Address
TU Braunschweig
Hermann-Blenk-Strasse 37
38108 Braunschweig
Address
TU Braunschweig
Hermann-Blenk-Strasse 37
38108 Braunschweig